SCSI Standards Architecture (*)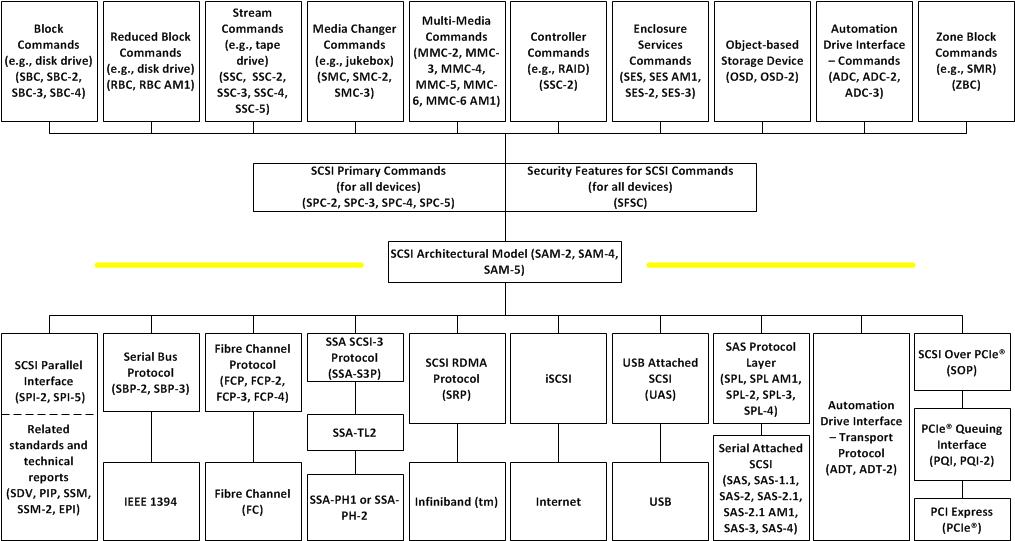 (*) This chart reflects the currently approved SCSI project family. T10 is responsible for all projects, except: IEEE is responsible for IEEE 1394; T11 responsible for Fibre Channel; Internet Engineering Task Force (IETF) is responsible for iSCSI and the Internet; the InfiniBand Trade Association is responsible for InfiniBand (tm); and the USB Implementers Forum, Inc. is responsible for the Universal Serial Bus (USB).
Note that the original third-generation SCSI standards used the name SCSI-3 to distinguish them from SCSI-2. Subsequent SCSI standards have dropped the '-3' from their names because it was cumbersome. So, when the SCSI-3 Architecture Model (SAM) was revised, it became the SCSI Architecture Model - 2 (SAM-2). While the individual components of the SCSI family continue to evolve, there is no SCSI-4 project envisioned.
DOCUMENT LINKS
Clicking here will open a popup window with links to the T10 working drafts. If the popup window does not work for you, please click here.
---
[Return to the T10 home page.]
For more information on T10 or if you have comments on this page contact a T10 Officer